The company is led by Sharlit Deyzac and Leonor Lemée
Sharlit was educated in American schools around the world from a young age. She later trained at Guilford School of Acting and has been living in the UK since.
After graduating, she started working in theatre and film in both French and English. Sharlit has also been writing, producing and performing in her own short films. In 2013, she became the programmer of the Voilà! festival. Passionate about promoting London-based French and bilingual companies, she decided to add her voice to the concert with the creation of Two Tongue Theatre.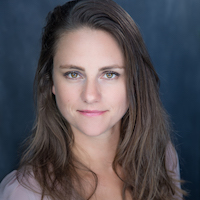 Leonor took her first steps on stage in Paris at the former Studio 34 school, today's Les Feux de la Rampe. Bilingual since childhood, she then debuted as Lady Muldoon in Tom Stoppard's The Real Inspector Hound at the Theatre des Déchargeurs.
Leonor later moved to London to train at the Central School of Speech and Drama. She continued to cultivate her taste for comedy, character work and ensemble playing and has since been devising plays and relishing the joys and challenges of collaborative theatre making. In 2013, she co-founded Two Tongue Theatre.
Two Tongue Theatre is also the people who support us
We would like to thank: